This is a sponsored post written by me on behalf of SmileDirectClub. All opinions are 100% mine.
This is a two part series written about my amazing experience with SmileDirectClub. You can find my first post here ---> How to Get a Straighter Smile Without Going Completely Broke.
Hey, guys! I'm back again today to check in with some good news. I've been wearing the aligners diligently since July 25, 2016 and have really seen an improvement in my smile and overall willingness to smile in photos, which is HUGE for me. If you remember in my first post, I shared 3 photos of me hiding my smile because I was always a little embarrassed of it. This is how my smile started:
Aside from the physical differences I feel in my own mouth (especially when I have my aligners off), you can finally see some changes from my before photos in comparison to my current photos. Needless to say, I am LOVING IT! My friend even told me how good my smile looks, even though she agreed that they weren't all that bad to start with. I am currently on my 9th aligner out of 12 and wear each aligner for the prescribed 2 week wear period. I'm so excited to see what aligner 12 will bring!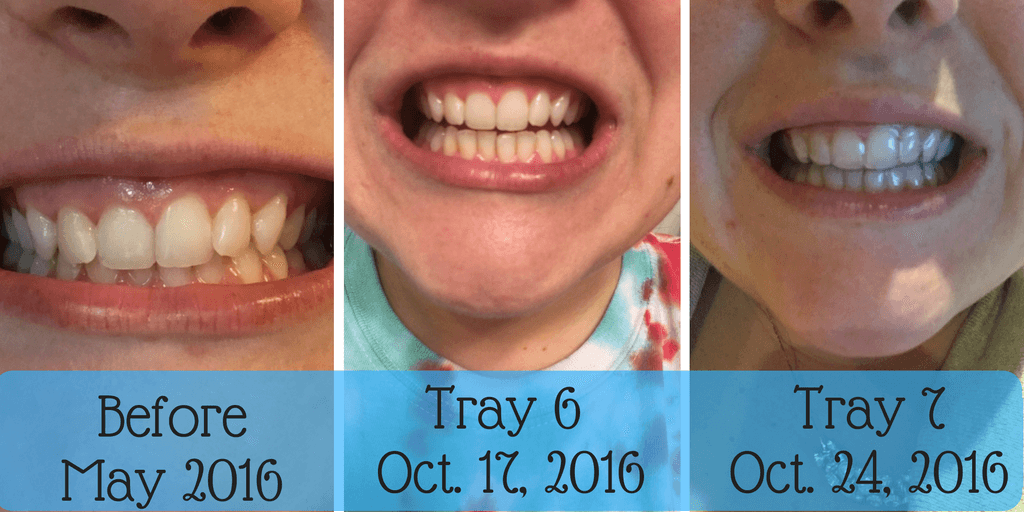 This journey has been really fantastic for me, and I'm so glad I decided to take the plunge a few short months ago to be on my way to a straighter smile. If you'd like to avoid office visits (they are the worst), pay 70% less than other brands of invisible aligners (hello, extra $ for other stuff) AND be done with treatment 30% faster than other brands of invisible aligners through a traditional orthodontist, SmileDirectClub is where it's at. I'm so thankful this company exists. Otherwise, I definitely would not be able to afford invisible aligners.
Also, really great news - I got a perfect bill of dental health from my new dentist and hygienist, who complimented me by saying my teeth are "a hygienist's dream" and that I have "beautiful teeth"! Coming from someone who has always been afraid to show their smile, this meant the world to me. I find myself smiling a lot more in pictures, and just in general.
I'm so glad that I threw my skepticism out the window and decided to complete the SmileDirectClub free smile assessment. Yes, I may have felt a little silly taking pictures of my mouth wide open and may have looked like a dang fool doing my own impressions late at night before I went to bed, but I absolutely would not change a thing because I have been so pleased with the entire process.
My last two sets of aligners were delivered well in advance of when I would be needing them - which is December 26th! If you're not the greatest at math (don't worry, I'm the worst at math too), that means I'm set to be done with treatment January 10th. What an awesome way to start out the New Year. If you've been thinking of starting your journey to a better smile, the new year could be a great time to start making changes that'll really boost your self confidence and overall happiness.
If you're wondering how SmileDirectClub makes all the magic happen, pop on over to their page to see how it works. It's pretty simple - there's a $95 risk-free evaluation where SmileDirectClub determines whether or not your smile will be able to be transformed with their invisible aligners. If it turns out that they can't take your case, the $95 is fully refundable. That was one of the main reasons I decided to take the plunge. If for some reason they couldn't work with my smile, I would get my money back. I admire a company for offering that kind of guarantee.
SmileDirectClub partners with licensed dentists and orthodontists who are making all of the important decisions and prescribing you your treatment. I don't know about you, but having an orthodontist oversee my treatment that I don't have to actually visit is so pleasant. I don't have to miss work or give up a free weekend to make an appointment to see anyone. The aligners are delivered straight to my door! To think that I saw these kinds of results without ever setting foot in an orthodontist's office blows my mind every time.
I love that they offer a payment plan of $99 a month for 15 months after you put $250 down OR you can opt for a single payment of $1,500 and they'll waive the $235 lab setup fees. If you choose the single payment option, you'll be saving (on average) $3,500. If an orthodontist quoted you for $5,000 or more, you're going to be saving at least $3,500 if you go with SmileDirectClub. What would you do with an extra $3,500? I'd probably use that money towards a Mediterranean cruise vacation or add it to a down payment for a house.
If you're ready to take the plunge yourself and save even more money, be sure to enter my discount code CITRUSBLOSSOMBLISS (code expired) use my unique link to get $100 off of the purchase price! The link takes you right to SmileDirectClub's website to purchase the evaluation kit or schedule a scan.
Here's a short slideshow video of my progress so far.
Stay tuned for my final results - I'll be sure to post them on the blog once treatment is over. Head on over to my Smile Direct Club page to see all my posts related to Smile Direct Club.
As always, feel free to leave me a question in the comments section if you feel I haven't covered it in this post, my How to Get a Straighter Smile Without Going Completely Broke post or my SmileDirectClub Invisible Aligner Review! I'd be happy to help or answer any questions you might have.